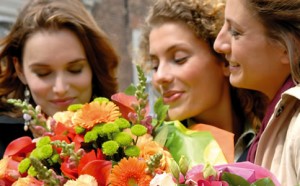 Satisfied customers and optimised profits are within the reach of every player in fresh flower supply chains around the world. The key is uncompromising cold chain management. FlowerWatch, in cooperation with Hortiwise, has developed a method of using that key to perfection.
The result: optimised supply chains, guaranteed vase life or shelf life extension by several days, satisfied customers, an improved branch image and, of course, maximum profitability.

Cold chain management has emerged in recent years as a vital success factor in the post-harvest life of fresh flowers. Temperature exposure during storage and transportation contributes to discolouring, wilting, poor flower opening, premature ageing and botrytis. The end result is reduced vase life, often by several days. Not only does this lead to rejects, decreased product value and customer dissatisfaction, it also frequently results in costly claims – particularly as even quality loss incurred at retail outlets can be traced back to inefficacies in the cold chain.
Under-performance is the rule rather than the exception. Everyone who works with fresh flowers knows they need to be kept cool. And everyone tries to ensure that. The reality, however, is that very few supply chains succeed in keeping flowers under consistently optimal conditions all
the way from farm to florist: there is always a cold chain leak somewhere along the line. Unfortunately, even the slightest, or briefest, temperature exposure at any point in the chain can have a disastrous effect on overall quality and consistency. Cold management sounds simple, but in the global fresh flower business, under-performing supply chains are the rule rather than the exception.
Now for the good news. FlowerWatch has developed an unfailing method for tracking down temperature exposure points throughout the entire chain. With numerous leading, international customers in their portfolio, they are experienced in using this method to perfection, tracing even the minutest flaws in your supply chain – and mapping in detail their effects on your business.
On top of FlowerWatch's unique, market-leading assessment services, they have developed a failure-proof Quality Assurance system. The system, which was developed in cooperation with Hortiwise, does not just identify the challenges in the cold chain – it will actually help to permanently fix them.
The central concept in their approach is time temperature exposure, which is expressed in degree hours. This is the average temperature of your fresh flowers throughout transport multiplied by the number of hours (1 degree hour = 1 hour x 1 degree Celsius). Every 500 degree hours reduce vase life by 1 day. The key to successful cold chain performance is to minimise the number of degree hours. The industry benchmark suggests that vase life loss in the supply chain should never exceed 1 day. Many supply chains fail to reach this target.
FlowerWatch can help you calculate your temperature exposure and identify the causes. Following that, they will outline the most cost-effective measures for fixing your key problems. Experience shows that most problems can be solved with relatively simple and inexpensive measures (such as optimised stacking and box positioning in cold storage). With detailed protocols by Hortiwise and FlowerWatch's Quality Assurance system in place, you can be sure your supply chain will be more competitive than ever. Permanently.
For more information contact FlowerWatch or Hortiwise