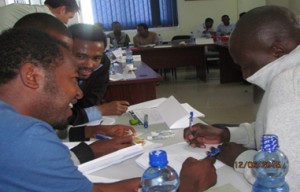 Orientation workshop about internal and external customer handling was undertaken by CBI for EHPEA member farms at EHPEA headquarters on June 11 and 12, 2015.
The workshop has an objective of enabling farm production and postharvest managers to understand the marketing trend of floriculture and their customers' behavior. Experiences from the EU market have also been discussed along with practical exercises.
Representatives from various farm clusters like Braam, Ethio-Passion, Desa Plants, Ethio-Agriceft, Marginpar, Tal Flowers, Roshanara, Joytech, Olij Roses, Gunna Flowers, Minaye Flowers, Freesia and Enyi Ethiopia were in attendance.
Source: EHPEA News