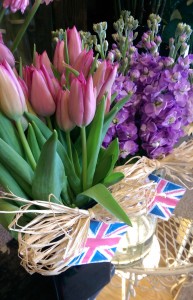 Shocked at the fact 750 million stems are grown in the UK with the majority going into the supermarkets and very few making it to the skilled hands of the British florists, FloraBritains farmers have joined forces to put an end to this.
The charm of British flowers is their seasonal availability, only blooming at certain times of the year then blessing us with their presence. Many varieties such as Tulips, Stocks and Sweet Williams are currently in season, yet just around the corner you can expect an abundance of varieties such as Peonies, alliums and Sunflowers who are all currently battling the Great British weather to flower and fight for our attention.
The current resurgence in British flowers means that the demand for home grown blooms has never been greater, consumers are actively seeking fresh British Produce and until now there has not been a way for florists to meet their customers demands.

The FloraBritain project
FloraBritain is a new and exciting project that launched earlier this month, with the aim to fulfil the gap in the flower market by offering every British florist the opportunity to use British flowers in their work and their shop. For the first time ever FloraBritain can provide the level of quality and consistency that is needed by florists, which sourcing from artisans growers could not fulfil.
The aptly named FloraBritain is the coming together of 14 Lincolnshire farmers, each from generations of flower growers specialising in their chosen varieties. They are very proud of their production methods and make a huge effort to ensure their farms are environmentally friendly.
FloraBritain recognises the need to establish its place in a changing market place where florists both need and want to purchase their flowers online, so they have decided to distribute their flowers through the FloriSmart online market, you can see their current range of flowers in the webshop.
To find out more about FloraBritain and their exciting project, please visit the FloraBritain website. They post some lovely images on their social media pages so go check them out!
Source: FloriSmart